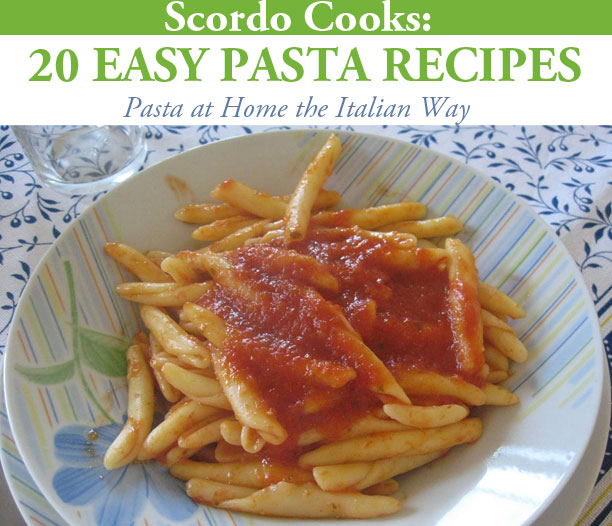 Introducing Scordo Cooks: 20 Easy Pasta Recipes eBook !
We're pleased to announce the launch of our first eRecipe collection – Scordo Cooks: 20 Easy Pasta Recipes eBook.  For the first time, we're bringing together our top pasta recipes in one easy to use format that can be viewed on your desktop, laptop tablet, or mobile device. The goal for our "Scordo Cooks" Recipe eBooks series is to select our easiest, most popular, dishes along side fail proof instructions and tips.  Our 20 Easy Pasta Recipes eBook features:
Authentic Pasta

Uniquely developed recipes that are easy to prepare and direct from our Italian kitchen

Get the Basics Right

Includes pasta cooking tips and advice – along with our basic tomato and pesto sauce, homemade pasta dough, and stuffed pastas (ravioli, lasagna, cannelloni, etc.)

Elegant and Easy Recipes

Easy to follow instructions and ingredient list which can be printed or easily followed on your mobile or tablet device – often with only 5-7 ingredients

Versatile Dishes

Ideal for weekday meals or elegant dinner parties

PLUS! Keep Scordo Cooks: 20 Easy Pasta Recipes eBook everywhere. Save on your computer and mobile devices
Like a sneak peek inside? Here are a few sample pages of our eBook, including the table of contents.