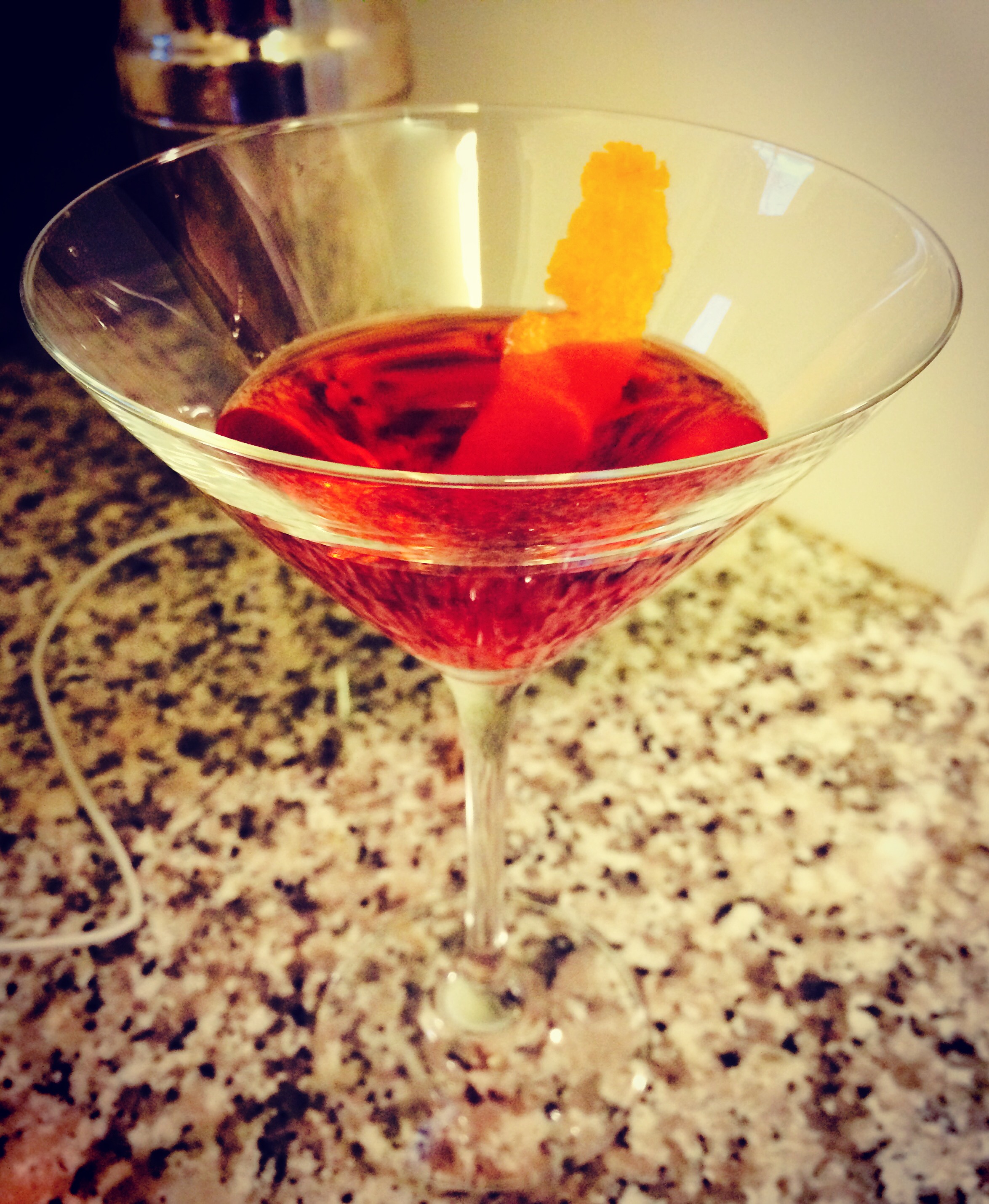 The Boulevardier Cocktail
The Boulevardier Cocktail or "Italian Manhattan" is credited to Harry McElhone, the founder and proprietor of Harry's New York Bar in Paris, and dates to 1927.  The Boulevardier Cocktail has become our favorite winter time pre dinner drink and is composed of 1/3 Campari, 1/3 Italian vermouth, and 1/3 Bourbon whisky.  Like all cocktails, the better the ingredients the better the drink – we suggest Bullet or Knob's Creek Rye or Bourbon and Antica Vermouth.
As a lover of pre-dinner drinks that contain Campari we think the Boulevardier is a slightly more elegant and refined version of the Negroni and find it especially appealing during the cold weather months when rye or bourbon is appropriate.   The traditional recipe is equal parts Campari, red vermouth, and bourbon whisky but we've experimented with increase the bourbon amount and halfing the Campari.  We also like to include orange bitters and substitute the lemon skin for orange.
Other non Negroni cocktails or drinks other than your typical Negroni can be Campari drinks, including the Americano.
The Boulevardier Recipe:
2 ounces rye or bourbon (we like Bullet or Knob's Creek)
1 ounces Campari (trying halving the amount and also including 1/2 Averna or Cynar)
1 ounce sweet vermouth (we like  Carpano Antica Formula).
1 Italian sour cherry (we like MORELLO AMARENA DI CANTIANO SOUR CHERRIES IN SYRUP, which are also ideal for a Manhattan – try adding a bit of the exquisite syrup to the drink as well and while one is the recommended cherry amount we can't help but add a few when making this cocktail)
Instructions:
Stir ingredients together in a mixing glass filled with ice, strain into either a stemmed cocktail glass or a rocks glass with ice, to preference. Garnish with a twist of lemon zest.  We've experimented with cutting the amount of Campari by 1/2 (it tends to dominate any drink) and include 1/2 an ounce of Cynar or Averna and a few dashes of orange bitters.