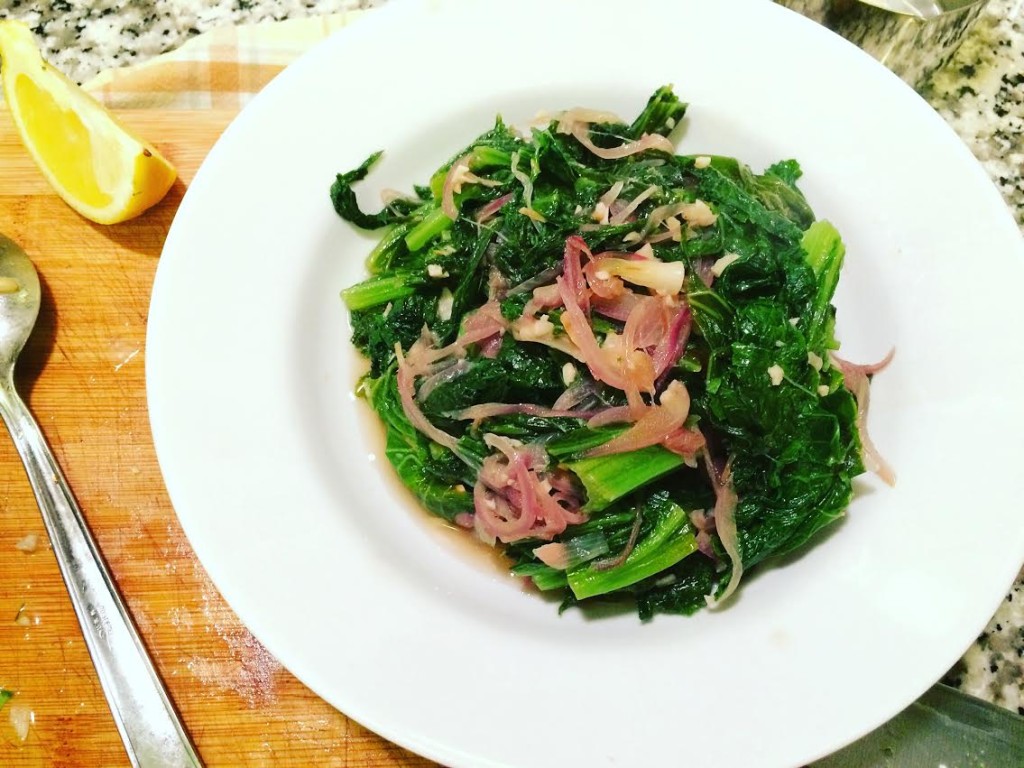 Calabrese Mustard Greens
Mustard greens are one of the most nutritious green-leafy vegetables on the planet and have more vitamin A, carotenes, vitamin K, and flavonoid anti-oxidants than many generic or everyday fruits and vegetables.  Like many of the greens we prepare our mustard green recipe includes extra virgin olive, minced garlic, and red pepper flakes.  We also quickly blanch the vegetable before sauteing in the oil, garlic and red pepper flakes.
However, there are two secret ingredients that transforms this humble vegetable recipe; that is, we add a bit of red wine vinegar and sauteed red onion, which contrasts nicely with the bitter properties of the vegetable.  Finally, when buying any vegetable look for leaves with a deep green color and avoid mustard greens that are yellow in color or do not appear crisp (that is, are wilting). Mustard greens are in season from January through April.

Mustard Greens
Mustard Greens
Cook:
Vincent Scordo - Scordo.com
Ingredients
1 bunch of fresh mustard green
½ red onion thinly sliced
Extra virgin olive oil
1 tablespoon of red pepper flakes
3-4 garlic cloves finely minced
Kosher salt and fresh ground black pepper to taste
1-2 teaspoons of red wine vinegar
Process
Clean the greens very well with lots of cold running water - submerge and rinse (repeat 3x). Remove stems and cut into 1-1.5 inch strips.
In a large pot, add a bit of water and add greens (you may need to do this batches). Season with salt and pepper and cook for 3-5 minutes. Remove greens and water to a bowl. In the some pot, add oil and onions (and salt and pepper) and cook until onions are tender and a bit caramelized - about 8-10 minutes.
Next, add garlic and red pepper flakes and cook 3-5 minutes. Bring greens to the pot and heat through and add red wine vinegar. Cook for another 3-5 minutes. Serve hot or cold.