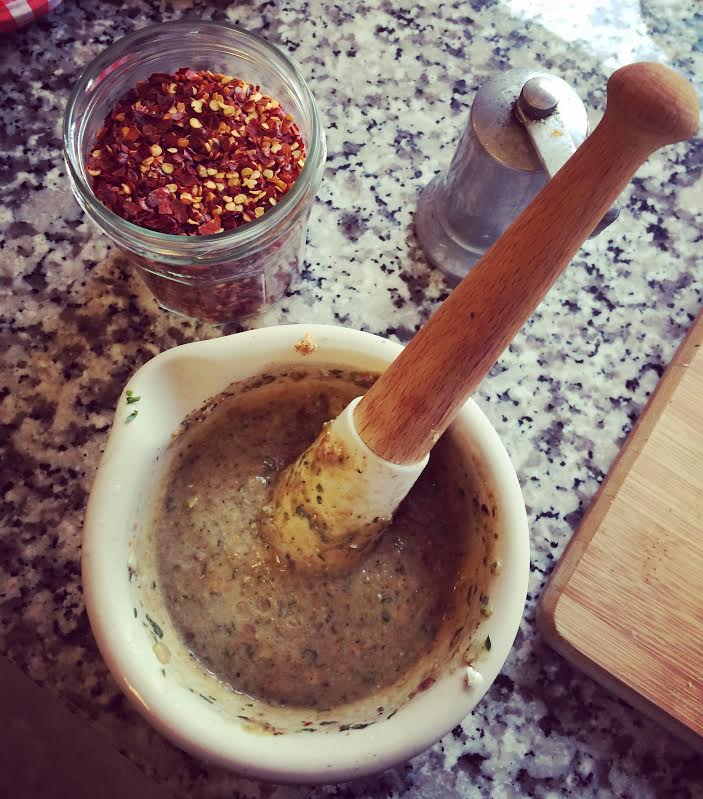 Recently I was going over a recipe with an Uncle interested in food and especially anchovy sauce and when I reached for a bunch of clipped recipes from the NY Times Food section he thought I was crazy for being so "old school"  We can debate endlessly about how one ought to save recipes (digitally or with a good scissor), one thing that's not in question is the universal appeal of the following anchovy sauce recipe derived from Julia Moskin's Almond Herb Sauce (via the NY Times Cooking section).  Our version omits the numerous herbs and ups the anchovy count while adding lemon juice in addition to vinegar.  The end result is a sauce that can top roasted vegetables or a grilled piece of red meat, pork, lamb, or a robust fish.  An especially good way to use the anchovy sauce is drizzled over mozzarella in carrozza (or as a dipping sauce with mozzarella sticks or grilled cheese).
We find the trick to good anchovy cauce is to use a mortar and pestle to establish the right consistency and nicely blend the ingredients. The sauce stores for 3-5 days in the fridge and even works spread on a nicely toasted piece of bread as a light appetizer with a Negroni before dinner.

Anchovy Sauce
Universal anchovy sauce
Cook:
Vincent Scordo - Scordo.com
Ingredients
⅓ cup pan toasted slivered almonds
10-12 anchovy fillets (in olive oil with salt and no other ingredients)
2 garlic cloves, peeled
2 tablespoons unsalted butter, at room temperature
½ cup extra-virgin olive oil, plus extra for basting
1 teaspoons wine vinegar (white or red), more to taste
1 tablespoon of lemon juice
½ cup coarsely chopped parsley
½ to 1 teaspoon red pepper flakes(optional)
Salt and ground black pepper
Process
Start by adding the toasted almond slivers to your mortar and pestle. Blend the almonds to a breadcrumb like consistency and set aside. Next, add the anchovies, lemon juice, and vinegar and combine well. Add the mixture to the almonds and set aside. Add the garlic, salt, black pepper and combine in the mortar and pestle.
Add the olive oil and finely chopped parsley and stir well. Add back the almonds, anchovies, lemon juice, and vinegar back to the mortar and blend until smooth (you want the mixture to flow but not to be too liquid like). Taste and adjust for salt and pepper.