Embrace the Bitter- Introduction to Italian Digestives and Amari Drinks
Do you do bitter?  No, no I'm not asking you if you like to complain or wake up each morning looking for a fight with the world (or worse your spouse)!  What I'm asking is if you've ever had the pleasure of experiencing what the Italians refer to as Amari?  Amari are traditional digestivos or spirits (that is, post dinner drinks that will help you digest your massive meal).  Amari are made by distilling a wide variety of herbs and spices – no one Amari shares the same makeup or ingredients.  For example, Amaro Averna from Sicily is comprised of citrus, herbs, roots, and caramel and Fernet-Branca includes aloe, gentian roots, rhubarb, galangal, red bark, etc. (Fernet-Branca keeps most of the ingredients a secret). Hence, Introduction to Italian Amari and Digestives.
Generally speaking, and as Eric Asimov explains in a recent "The Pour" article, bitter drinks aren't exactly the rage in the US and, moreover, Americans haven't yet reached the ephemeral state of post digestive bliss.  That is to say, Mr. Smith could care less about how his stomach is doing after a large meal, conversely, in Italy, the digestive system is taken more seriously than Catholicism, hence the fascination with post dinner Amari designed to soothe both the stomach and the soul (don't worry I'm not a Cartesian).   Also related to post meal digestion, the Italian tradition of fruit after a meal is also meant to cleanse the palate and help the stomach do it's thing.  For example, in my childhood home it was a given we had a virtually fruit stand at our dinner table every night, including two types of pears, a couple of varieties of apples, oranges, cactus pears, grapes, peaches, plums, etc. (all according to the correct season).  I still consume tons of fruit after dinner, but I can't peel a pear like my father or grandfather.
During my childhood, my parents always had a few basic Amari including Campari (which is made from cascarilla bark and the insect Dactylopius coccus which gives the liquor it's distinctive red color) and Vecchio Amaro del Capo (an herbal and minty amaro made in Calabria) in the house.  My parents also served Amari before and after a meal;  for example I enjoy a Averna on the rocks before a leisurely Sunday lunch or club soda and Campari before a weekday meal.
The following is a wholly non comprehensive list of Italian Amari (thanks to both Asimov <NY Times> and Weber <San Francisco Chronicle> for doing all the heavy lifting; let's start with Weber's list (quotes are straight from his wonderful article, That's amari: Italy's traditional bitter liqueurs find new life with American consumers):
Amaro Nonino (about $42).
"A lighter style of amaro made in Friuli at the Nonino distillery. Its flavors are warm, with a gentle spiciness and smooth texture. The spice character lingers on the finish, proof that Nonino is one of the more elegant amari on the market. Contains a portion of ÙE Grape Distillate, a proprietary aquavit aged in small barriques of nevers, limousin and sherry woods, plus an infusion of herbs. It is best enjoyed as a digestivo or as an aperitivo with ice and orange peel."

Amaro Averna (about $35).
"A sophisticated and complex amaro that hails from Sicily. The addition of blood orange and lemon peels to the aromatic herbs used to make this amaro adds a bright and refreshing character. Averna is widely considered to be one of the most versatile Italian amari."

Vecchio Amaro del Capo.
An herbal and minty amaro made in Calabria, my parents place of birth.  Capo is excellent when served on the rocks or ice cold from the freezer.

Cynar (about $22).
"The earthy flavors in this herbal amaro are enhanced by the flavors of the artichokes used in its production. Cynar also has a relatively low alcohol level (16.5 percent), making it a popular amaro for cocktails, as well as a style of amaro that's enjoyable as an aperitivo."

Fernet-Branca (about $30).
"A pungent and black drink made in Milan and considered by many to be the benchmark Italian amaro. Flavors of anise and saffron add complexity to this forceful drink."

Santa Maria al Monte ($38).  "This shows an engaging herbal complexity that recalls fresh basil and spearmint. Its strength and power are similar to Fernet-Branca, while the vibrant finish feels spicy and rich." From the Valle d'Aosta, Santa Maria al Monte is a digestivo that uses bitter orange peel and ginseng among other flavoring agents.  Menthol presence is heavy.

Ramazzotti ($24).
"One of the more popular Italian amaro brands, Ramazzotti is made in Milan. The balance between bitter and sweet in this aromatic amaro feels almost seamless, while the snappy flavor of fresh ginger lingers on the finish."
Other brands mentioned in Asimov's article:

Campari (about $26).
Originally produced in 1860 by Gaspare Campari in Milan.  As stated above, Campari is made from cascarilla bark and the insect Dactylopius coccus which gives the liquor it's distinctive red color (note: as of 2006 insects are no longer used to give Campari it's red color; a red dye is now used).  I like Campari via the
Negroni, Americano
, or with grapefruit juice and a splash of red vermouth)
Girolamo Luxardo of Veneto.
A pleasant aperitif liqueur obtained by the infusion of several herbs and fruits such as: sweet oranges, bitter oranges, rhubarb, mint, marjoram and thyme.

Branca Menta (about $27.50).
As one online reviewer put it, "Deep chestnut, mahogany. High toned, mineral, alpine herbed, licorice aromatics. Rich texture. Wild, intensely concentrated palate – like liquid Ricola. Very fresh, minty and clean with a powerful infusion of spice. For all its presence, it retains nice balance. Use this in winter – should cure anything."

Inga Mio


More info to follow.
AMARO MELETTI
from Serious Eats, "Saffron, violet, and anise flavors prevail in this lovely amaro. Meletti is subtly bitter, a little more so than etiher Ramazzotti or Averna."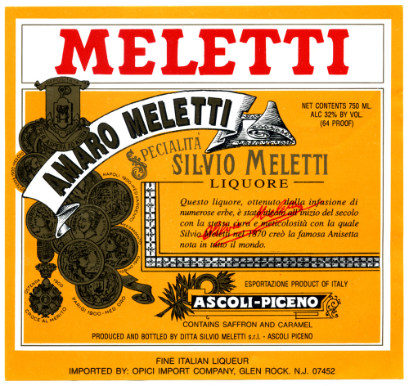 Chinati


Made from wine with the addition of herbs