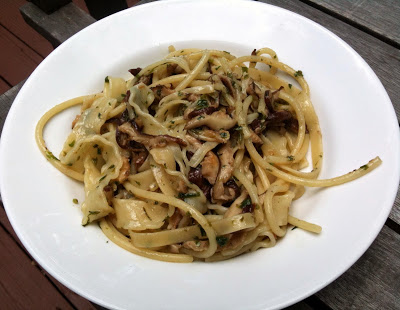 I love pasta; in fact, I'd venture to say it is a glorious food product and it's why we put together our guide To dry pasta!  And it doesn't really matter how it's prepared (condiment or sauce-wise, that is); I'll eat penne rigate with good extra virgin olive oil  and freshly grated Parmigiano-Reggiano,  Bucatini with a fresh, tomato, pan sauce , or linguine fine with a homemade pesto sauce .  The condiment for any pasta is important, but what's key is that the pasta is not over or under cooked and that the water used to boil the pasta is both salted and abundant (don't crowd your pasta during the cooking process despite what you see on the web about cooking pasta in minimal water).
You'll also hear the word al dente thrown around a lot but it's the food equivalent of drinking only Bordeaux or one type of wine; that is to say, you can cook pasta al dente most of the time (and be happy), but all pasta does not need to be cooked, "to the tooth" at all times (large rigatoni is a good example).  Moreover, dry pasta is not inferior to fresh pasta and, in fact, the very best dry pastas are superior to average, fresh, pasta.
Dry pasta, like beans and grains, are the foundation of a well stocked Italian pantry and most pastas can keep for up to two years if stored appropriately (i.e, in a cool space in a well sealed container).  Dried pasta comes in a mind blowing array of shapes and certain shapes pair well with certain sauces or condiments, but there are no hard rules when it comes to pairing dry pasta with a particular sauce.
Basic Pasta Shapes
I always aim to keep, at the least, 5 varieties of dry pasta in my pantry, including the following (note there are literally hundreds of pasta shapes to be found in Italy, as mentioned above; for a great history of pasta and comprehensive list of most known past shapes in the world, see our review of the Encyclopedia of Pasta).
1. Linguine Fine
The pasta cooks very fast and is great for loose sauces like tomato or cream based sauces, like the ubiquitous Alfredo.  I also use linguine fine when I cook up a batch of super simple Aglio e Oli pasta.
2. Angel Hair or Capellini
The fastest cooking dry pasta on the market.  You need an abundant condiment for this type of pasta or you'll get lumpy bundles of thin pasta.  My mom used to make angel hair for me during the school year (with plenty of tomato sauce and freshly grated cheese); in fact, every time I have Angel Hair I'm brought back to lunch time during my elementary school years.
3. Penne Rigate
Another pasta staple that goes well with pesto or baked in the oven with fresh mozzarella, ricotta and a bit of tomato sauce.
4. Large Rigatoni 
Ah, this was the go-to pasta for Nonna Rosa.  Nonna Rosa preferred the large type rigatoni and she would often serve the pasta with a ton of olive oil (mixed with a bit of corn oil because she liked to save money) and freshly grated Pecorino Romano.  Large rigatoni is also the base for my white wine dark turkey meat Bolognese sauce (pictured above).
5. Bucatini
This is a thick spaghetti with a hole in the middle.  Bucatini is a hardy pasta that, because of the hole at the center of the pasta, takes any sauce surprisingly well.  I like bucatini with anchovy, hot peppers flake, garlic, freshly chopped parsley, and olive oil.
Pasta gets a bum wrap in the US because most Americans tend to have pasta as a main dish when having dinner (this will lead to over consumption).  Pasta, if proportioned correctly, can be used to start a meal 2-3 times a week (as they do in Italy).  The correct portion is about two ounces.  And if the condiment or sauce is made well (and used sparingly) you will feel very satisfied (the problem occurs when there's no taste in your sauce and you look for additional pasta to make up for the lack of taste).
Good pasta also needs two key ingredients to thrive: extra virgin olive oil and Parmigiano-Reggiano.  Moreover, don't forget to save some of the golden water used to cook your pasta (you may want to add a little bit with your condiment/sauce when mixing it with pasta) and always bring your pasta to your pan containing your condiment/sauce (never the other way around).  Click here for our 8 tips to making great pasta at home – including other tips such as skip adding oil to your boiling water and ignoring the cooking time on the package.
Top Pasta Brands
Finally, you may want to know which dry pasta brand is best given that this is a guide to dry pasta, afterall.  In terms of large, well known, and readily available brands we suggest De Cecco.  We usually buy 4-6 packages of various De Cecco shapes every few weeks and use it as out every day pasta.  I also think Colavita makes a good, value-based, dry pasta (the quality is certainly a step below De Cecco, but it's fine for every day use).  I used to consume Barilla but I think their quality has suffered a bit in the last ten years or so and it is currently produced in the United States (with varying quality from the Barilla produced in Italy).  There are also a ton of small production type dry pastas from Italy (such as Rustichella and Pastificio Vicidomini), but I'd suggest trying an artisan brand and sticking with what you like (note many are outrageously priced and, in my view, not worth the extra money outside of the occasional splurge but you will get, generally, better quality, handmade or small batch production, unusual shapes, etc.).  Other medium to high end dry pastas on the market in the US include:
Racconto
Cocco
Garofalo
Afletra
Montebello
Rigorosa di Gragnano
Faella
Geraldo di Nola
Delverde
La Molisana
Dallari
Fini
Cipriani
Cav. Giuseppe Cocco
Michele Portoghese
Benedetto Cavalieri