Fresh Basil Pesto Sauce Recipe
Growing up in New Jersey I was surrounded by people from all over the world; on my block alone I remember families from Italy, Egypt, Lebanon, England, Spain, etc.; needless to say, the aroma of food hovered on our small block like haze hovers over Los Angles. One of my favorite food smells came from my next door neighbor Amelia; namely, the aroma of fresh basil pesto sauce.  Amelia worked in the New York City garment district as a dress designer, but her real passion was food (and the occasional Americano cocktail in the afternoon).  Amelia was also born in Genoa, Italy – the Pesto capital of the world. You see, in Genoa (given it's geographic position), basil grows like wild flowers.  And the basil in Genoa isn't the metallic, bitter herb you find in your run of the mill supermarket in the US, rather it's sweet, aromatic, and more equivalent to a succulent peach then an herb.  Amelia also taught us how to make our fresh basil pesto sauce recipe.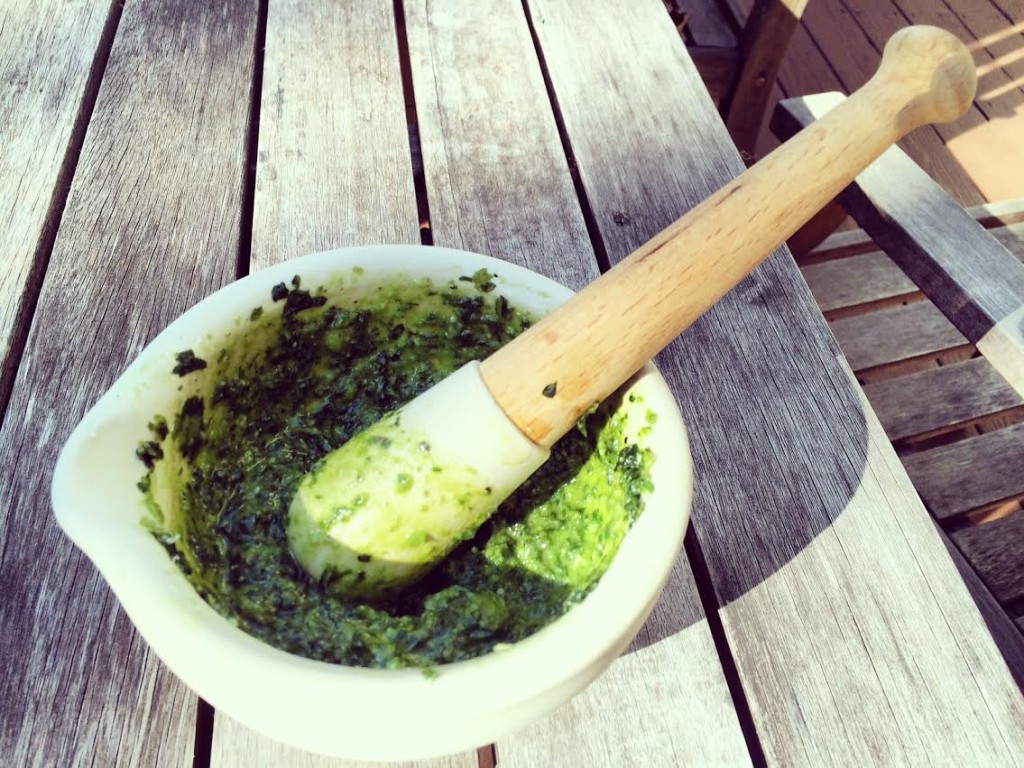 I was lucky enough to watch Amelia make pesto on several occasions as a teenager and to this day I still use her traditional Genovese recipe when I make pesto at home.  The following is Amelia's recipe with a few caveats:
Try to find "young" basil; that is to say, first picked basil usually tends to be sweeter and less bitter.  Growing basil is fairly easy and I would recommend purchasing seeds from Europe.
Amelia included a bit of parsley in her recipe and while it's not usually called for in most Pesto recipes it adds another layer of complexity to the mixture.
Amelia also included a bit of cream cheese in her recipe (please omit it if you're a traditionalist, but it does wonders)
Ingredients
One, large, bunch of basil leaves (washed and dried very well; excess water is not good for the end product)
One handful of Italian parsley (washed and dried) - you can leave some of the parsley stem, but make sure to cut off about half the stem.
One cup of Parmigiano-Reggiano (grated on a box grater) - see my guide to Italian cheese
3-4 tablespoons of cream cheese (yes, don't laugh, but it's OPTIONAL)
Handful of pine nuts
Kosher salt and freshly ground pepper to taste
4-5 tablespoons of extra virgin olive oil
2-3 cloves of garlic
Process
You can combine the above ingredients via several tools, namely, 1. food processor, 2., mortar and pestle, or 3. chopping with a large chef's knife or mezzaluna. Amelia used a mortar and pestle, but you can use a food processor (it does take a little bit away from the flavor of the pesto given the strength of the blade/machine, but, to be blunt, it's tough to get the right consistency with a mortar and pestle set up unless you're accustomed to the tool). 101 Cookbooks swears that a mezzaluna is the best tool, but I think if you use a knife for pesto you're getting more of an alio e olio type of pasta condiment.
If you're going to use a food processor, start by adding the garlic and pulsing. Thereafter, add your basil, parsley, and pine nuts. Let the machine process the ingredients and slowly add your oil, salt, and pepper. Thereafter, add your cream cheese and pulse again. Finally, add the Parmigiano-Reggiano and the remaining olive oil. You are looking for a consistency just before the mixture turns into a paste.
I like serving pesto with thin linguine (or linguine fine) and tend to add a splash of fresh olive after plating and, of course, more Parmigiano-Reggiano. A dry red wine like Aglianico from Basilicata (southern Italy) goes well with pasta pesto.